Grace Glass | OG Series | Golden Grip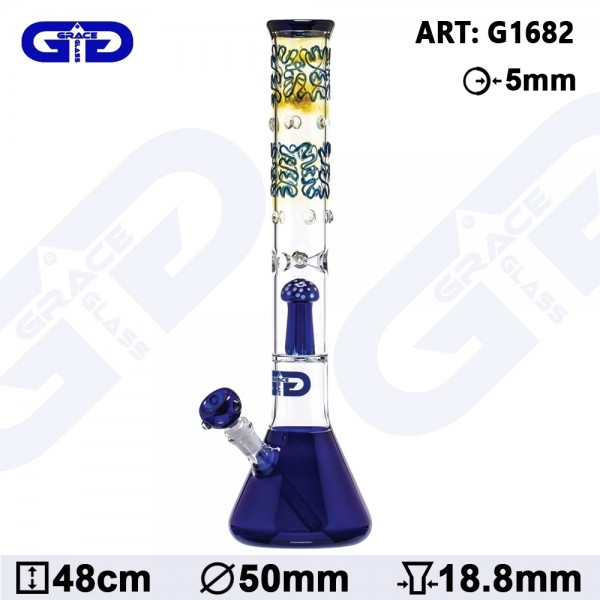 This Mushroom Beaker Grace Glass Bong is a magnificent piece of glass art that will upgrade your smoking experience! It is made of a robust heat proof borosilicate glass, formed in the shape of a beaker base tube. You can place your favourite herbs or tobacco on the 3 point blue bowl, which connects to a detachable chillum through a sure ground of 18.8mm. The chillum is used as a diffuser, for spreading your smoke into the tube, so that it gets filtered by the water. Your bong comes with a mushroom percolator that will bubble up your smoke, for cooling your toke, and some ice noches that can hold a few cubes for extra smoke cooling. With the Grace Glass logo featuring at the bottom of the tube, the whole set-up ends up in a blue mouthpiece ring with some glass beads beautifully shaped all along the tube.
Please inform me as soon as the product is available again.
€52.22 *
€78.36 *
(33.35% Saved)
Prices incl. VAT plus shipping costs
Not available / Out of stock
Item number:

G1682




| | |
| --- | --- |
| Thickness: | 5mm |
| Socket: | 18.8mm |
| Oil: | No |
| Shape: | Beaker |
| Ice: | Yes |
| Carton: | 10 pcs |
| Number of Perculators: | 1 |
| Perculator: | Dome perc |
| Diameter: | 50 |
| Height: | 48 |
| Color: | Blue |